---
3 WAYS TO GET FREE B2B LEADS
---
---
3 WAYS TO GET FREE B2B LEADS
---
---
3 WAYS TO GET FREE B2B LEADS
---
This post will provide you with three software products, which deliver a near-endless stream of free B2B leads. No catch!!
Agree or disagree: You can never have enough quality free b2b sales leads!! Agree, right?
I know most of our clients at YourSales would certainly agree you can't have too many leads. Very few of them are seeing too high influx of leads and most would like more. That's why the following surprises me: Most of the companies we speak to don't use or are even aware of this way of getting additional information about website visits. Let's get right into getting free B2B leads!
One of the trends since around 2016 is for Account-based Selling to catch on big time, and chances are that now - in - you're already doing account-based selling, especially if you're a Small or Medium sized business.
Focusing on specific accounts all the way from the top of the sales funnel makes it easier to facilitate growth by honing in on specific companies while prospecting. A lot of that account-based work will happen solely via outbound methods. Some of it, though, could well be triggered by prospect activity on your website – this is what most companies are missing out on today.
For both methods you'll be interested in ways to obtain those free b2b sales leads.
Already done getting free B2B leads? How about a talk about how to create leads with LinkedIn. Click to book a time here.
Free B2B Leads with These Tools
This is what you want: free b2b sales leads! For a while now we've been using three freemium tools here at YourSales. Of course, you can get more if you pay, yet over the years visitors here have always had an appetite for at least starting at no cost.
That's why we went through the most recent version of our Sales Stack listings - in the prospecting leadgen list creation section - to find and test these free tools for you.
With no further ado, here they are: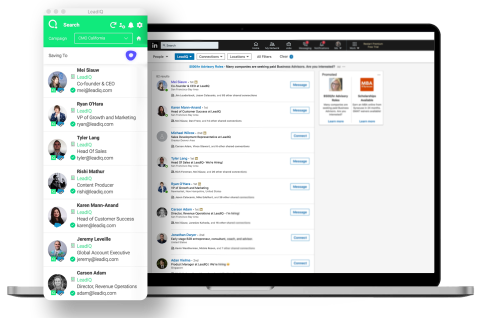 LeadIQ: Free B2B Leads with Contact Details
LeadIQ is a fully-fledged prospecting platform. For those looking to just find a few email addresses for free, the free package allows you to capture and sync prospects' contact data into your CRM or just manually copy it.
Install LeadIQ's chrome extension to get going. Use Sales Navigator or regular LinkedIn to find buyer personas at your ideal customers, then and sync them to Salesforce, Hubspot, Outreach, Salesloft or your Google Workspace for further prospecting.
Granted, you'll run out of the first 15 credits per week fairly swiftly.
At that point, you may want to upgrade - depending on your existing sales stack potentially even include the full platform. Or not, and just enjoy the accuracy of 15 quality verified work email addresses per week.
Leadfeeder: Free B2B Sales Leads with International Website Visitor Identification
Setting up Leadfeeder is just super simple. All you need is your Google Analytics account credentials. Leadfeeder will dig into your website visitor statistics and present you with visitor information instantly.
At the time of implementation this means you don't have to wait for data, as it's already there, provided you're already using Google Analytics.
Leadfeeder gets you integration with CRM/Opportunity Management tool Pipedrive, noting in Pipedrive each time your clients visit your website. In addition Leadfeeder provides a small company profile for visitors along with information about how you might best connect with that company, based on data from LinkedIn.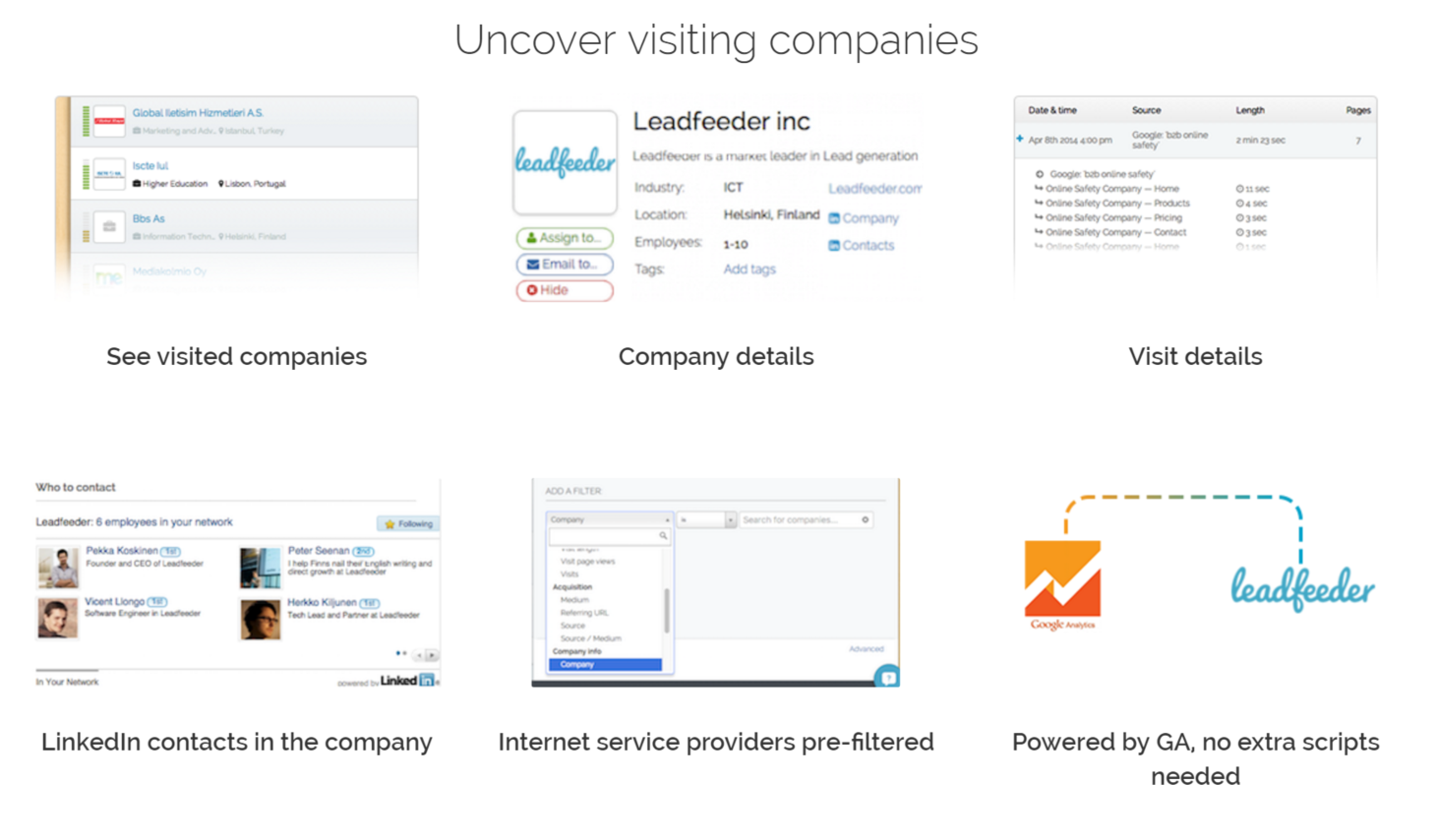 Online Succes: Free B2B Leads with Dutch Website Visitor Identification
Same as the two others this marketing campaign automation tool provides insights to visitors to your website on a daily basis.
As Online Succes is an Account Based Marketing tool, it will allow you to set up campaigns and target visitors to your website.
At current Online Succes is mostly geared to deliver value for the Dutch market.
For instance you'll find that the graphic here provides free b2b sales leads data on visitors from Dutch provinces. Interesting for companies focused on the Netherlands. Not so interesting for everyone else. In addition the translations to English aren't complete just yet – the English version of the software contains a mix of English and Dutch and additional information on companies is only available about website visitors from the Netherlands.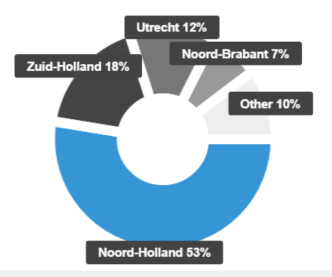 Use All to Maximize Free B2B Leads
As you see, the three tools above come with different sets of benefits and certainly with different aims and ways to deliver free b2b sales leads.
Leadfeeder has the most complete set of data on companies internationally, visiting your website, and if you're aiming for the Dutch market, Online Succes could be for you. Looking for email addresses, then LeadIQ could well be for you.
There are differences, though, and sometimes either of these three will provide better insight.
You might end up with a premium version of either of these software packages. Either way, I recommend using at least the free trial of all of them. Online Succes is useful for selling/marketing in the Netherlands, and Leadfeeder and LeadIQ can be used everywhere. All have free trials with a number of free visit identifications per month.
This provides your business with free B2B leads. No reason not to get started right now.
Good selling ! 🙂