---
How to Reduce Sales Friction with Salesflare Tasks
---
As CRM systems go Salesflare belongs squarely in the upper echelon for sure. With – among many great features – automatic activity logging, automatic contact creation, and an endless array of integration possibilities to top it off. All of these features contribute to reduced friction in the sales process. Now, how to further reduce sales friction with Salesflare?
Since 2003 LinkedIn in has increasingly become a critical part of the sales process. Unlike Salesflare, LinkedIn hasn't won through great integration with the other players in the sales technology space – on the contrary.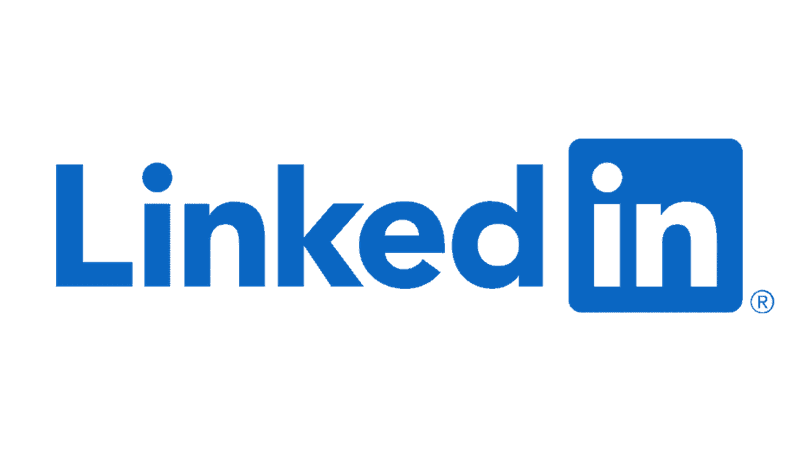 To this date, LinkedIn remains walled-off and often play a productivity killing role in sales processes around the World. If it wouldn't be for offerings in the LinkedIn software automation category, sales teams would have to accept that extra friction in their daily work. LinkedIn increases the abilities of sales for sure. On the other hand LinkedIn also increases productivity-killing friction. Can we reduce sales friction with Salesflare??
Both as external consultants, an outsourced lead generation team and as outsourced B2B sales provider in the SaaS and adjacent industries we feel the pain of friction as do our clients.
Probably the LinkedIn automation that has been around longest – and still going exceptionally strong – is Dux-Soup. Dux-Soup originally made it possible to automate simple actions.
For years now, Dux-Soup have offered integration with thousands of other software offerings, through their integration with Zapier. SO MUCH software integrates with Zapier. We have a collection of sales technology which integrates with Zapier right here – you should check it out.
Zapier sets action in motion in software by looking for triggers that occur in software. Typically you'd be looking for triggers in one software package to create an action in another software package.
Dux-Soup for instance lets Zapier know if any of the below events happen on LinkedIn: New Dux-Soup Action Event, New LinkedIn Connection Event, New LinkedIn Message Event, and a New Profile Visit Event.

Remember which problem we started out to solve: further reduce sales friction with Salesflare, which occurs when a multichannel sales process requires jumping from software to software.
The reason we want to avoid that friction is that it costs time. And lost time in a sales team means lost sales productivity and lower target achievement.
Since we can't actually send LinkedIn messages from Salesflare, what if we could create a task in Salesflare for every message in need of an action? Maybe even with a link that would send the Sales Professional straight into the conversation in question to reduce friction to a minimum.
Fortunately, that's quite doable and here's how. For ease of use you can go here to get the full Zapier zap.
In Zapier, we ask Dux-Soup to be looking for the trigger "New LinkedIn Message Event".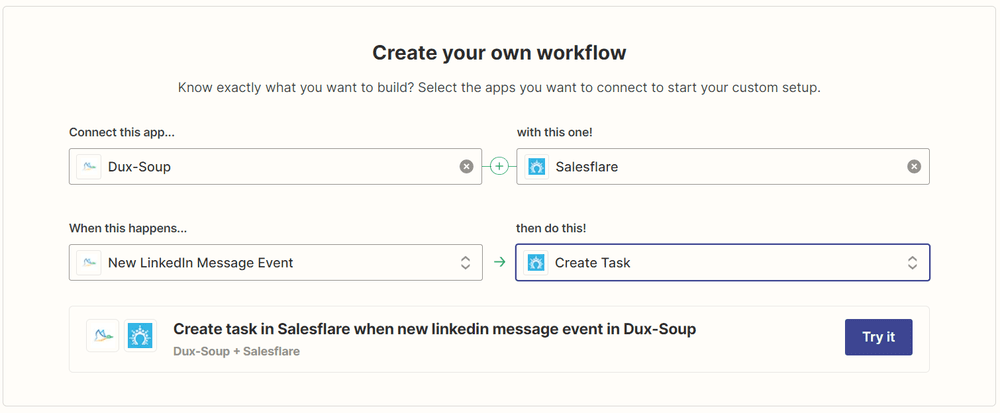 With that done you simply need to select the right account and test if the trigger is working.
Time for the Action. The description of the task can get a little tricky. You'll want a clickable hyperlink, but if you make the task description too long, Salesflare won't display all of it in the task overview.
Instead we create a description which says what to do, and includes a link straight to the message thread on LinkedIn. To make sure not to write out the entire link and to make it clickable, we'll use some simple HTML and variables from the Dux-Soup trigger information to make the description work in Salesflare.
I know. You'd want the task to appear under the account we're communicating with. As a result of late-night collaboration with Salesflare, we've modified the zap to seek and create both contact and account, and associate the task with the account. Again, you'll find the zap here.
Also experiment a little with the due date and time of the task and assign it to the right rep in Salesflare, and you'll be all set.
Like this: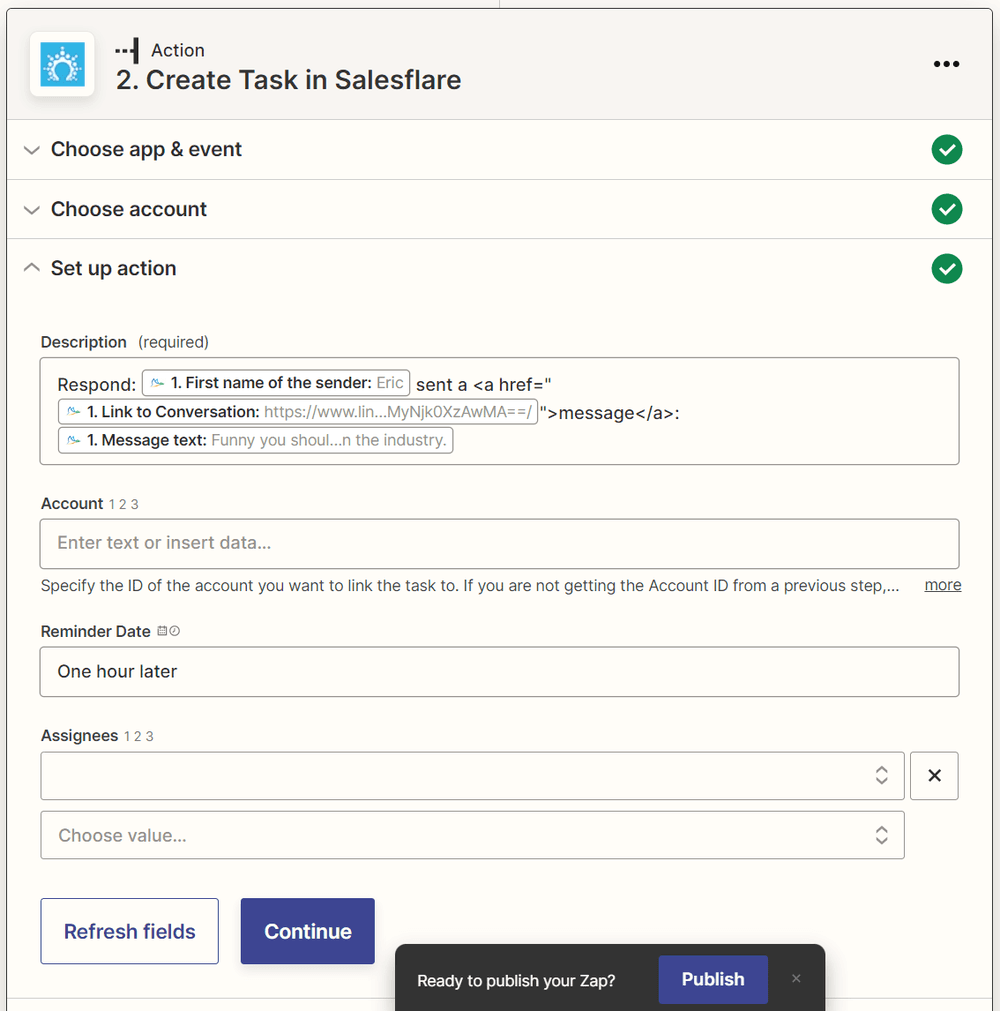 As a result, you can now manage both your LinkedIn and your email communication channels with customers in Salesflare. The problem of how to reduce sales friction with Salesflare is now solved, but not only that.
Being able to create tasks opens up an opportunity to correctly reflect sales team activity. In the past – before logging LinkedIn response activities – there would certainly be conversations about numbers of emails, calls, and appointments for the company, per team, and per sales representative.
A Sales Professional with a considerable amount activity on LinkedIn would not be able to back up claims of "high LinkedIn activity" with data. Now they can.
That provides us with more data to analyze to better understand our sales processes.
But that's a whole different chapter. For now, this was how to further reduce sales friction with Salesflare. Enjoy your newly gained ability to work with more of your sales process with Salesflare at its core.
Happy selling.