---
Smart Scheduling for CalDAV
---
---
SMART SCHEDULING FOR CALDAV
---
---
SALES STACK 2017: THE TOOLS
---
Sales 101: What is Smart Scheduling?
One of the benefits of the rise of sales technology has been to allow Sales Professionals to spend less time on low-value tasks. With "low-value" we mean tasks which do little to help clients make healthy, well-informed decisions.
An example is the task of finding slots in a calendar that work for both or all parts of such meetings. Smart scheduling reduces that task from endless back and forth to a matter of sending a link and plotting in time. Easy.
You can imagine that in our business doing SaaS Sales Outsourcing we come across all sorts of platforms, and in some cases we just have to make things work one way or the other. Smart scheduling is one of the tools we'd want to use regardless of platforms. Without it, getting times right simply takes too long.
Agreeing on times can be easily done with the likes of Calendly, which we've used here for the past few years, booking North of 2000 appointments for our small team and many more for clients.
Also a plethora of other providers create sales technology that make it easier to find and plan time to talk or even meet. Some of them are on track to start delivering fairly hefty competition to Calendly once their software offerings matures a little.
Sounds good. What's the Problem?
Most of the current scheduling software provides integration with the likes of Google Apps and Office 365.
What if you're using something else? What if you're using Zimbra or another calendar solution from this list using CalDAV for calendar sync.
One of our clients uses Zimbra. Our preference was to use Calendly to provide smart scheduling of appointments. Calendly doesn't have CalDAV support, but smart scheduling for CalDAV IS possible. If you have an Android phone. And with a couple of sync apps and a dummy Google account we did get it to work.
While we were at it it became obvious that more people were sitting with this issue. Here come a few solutions for you to setup - potentially during sales downtime:
What We're Talking About in this Post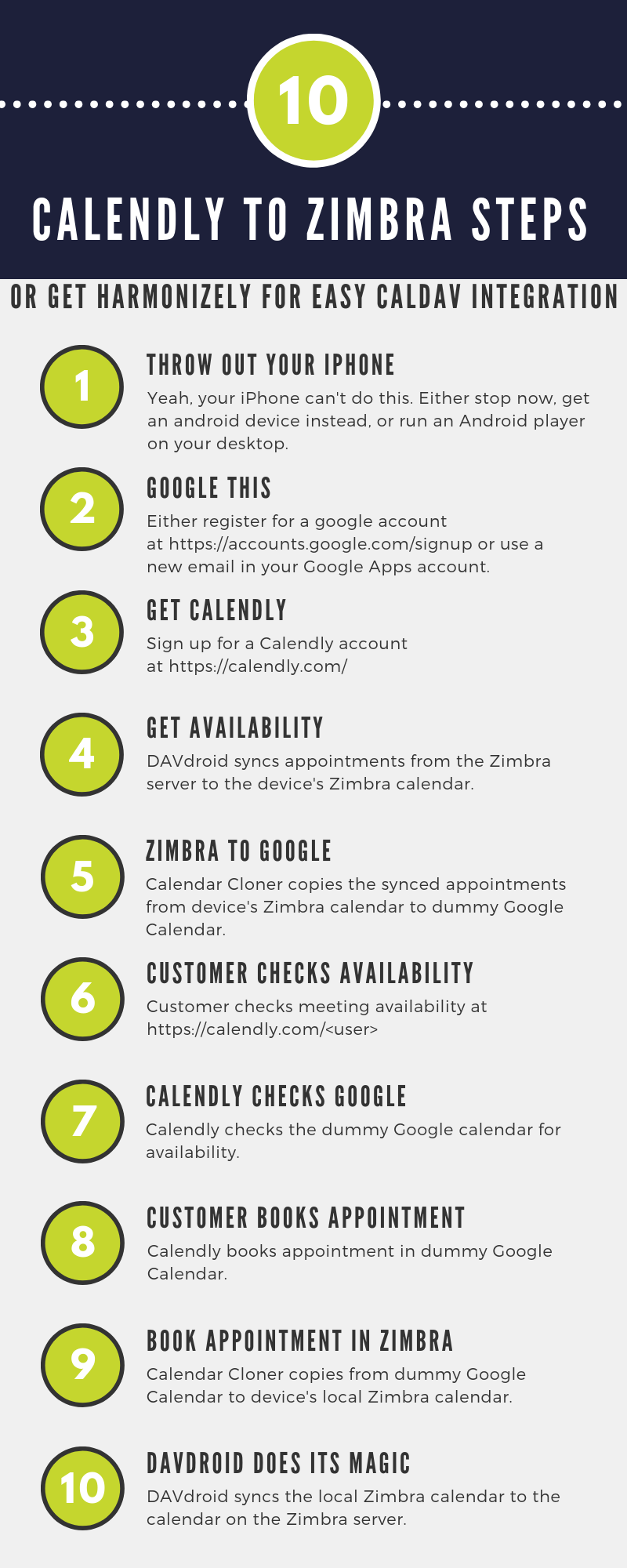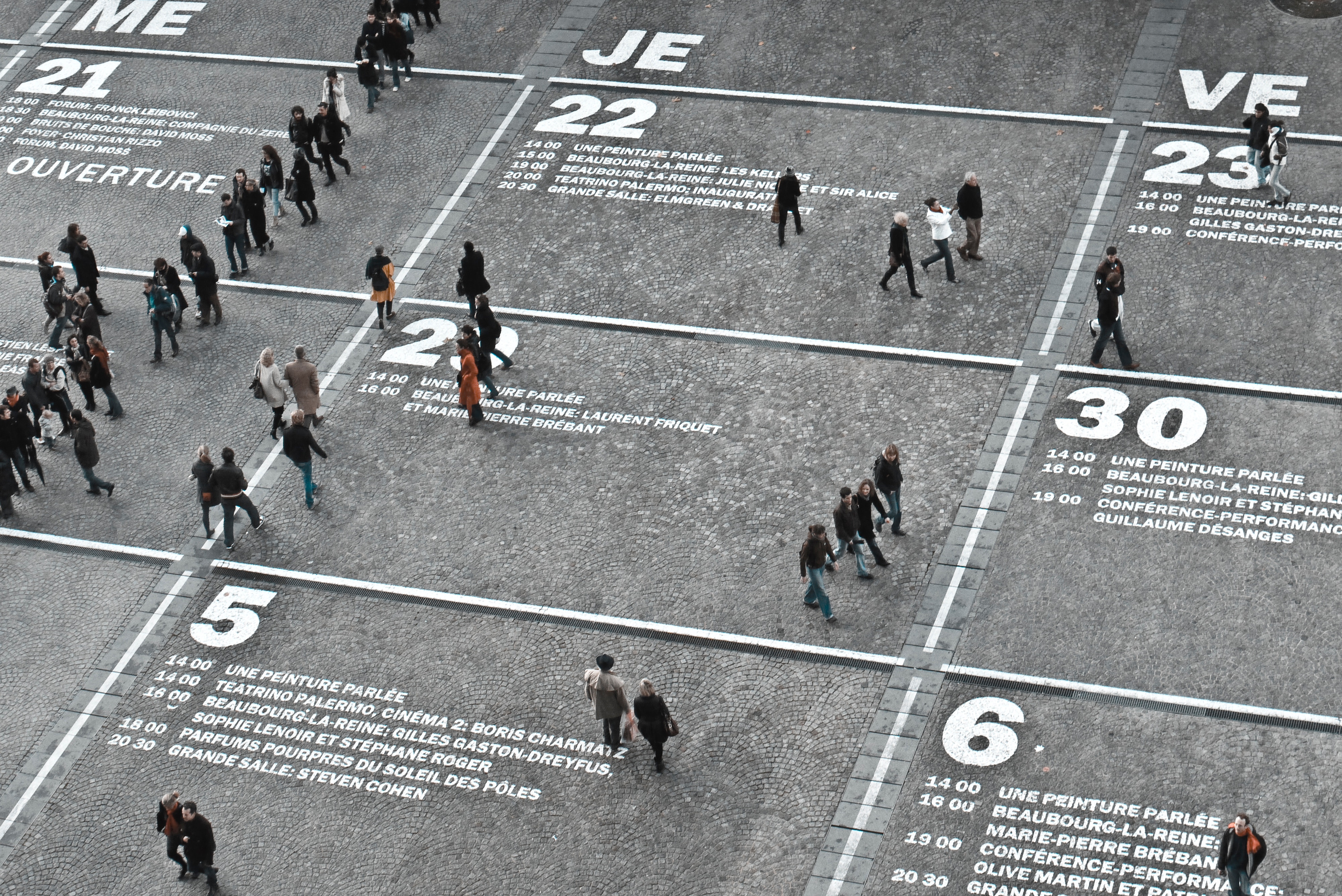 Smart Scheduling for CalDAV - the HARD Way
At first we were hell-bend on making Calendly work. After all it's the software we know - and which we know works really, really well.
After a bit of testing here's how it worked out:
Throw out your iPhone, get an Android or install an Android player like NOX on your PC or Mac. We used a process that required the Android OS to be running a few apps.
Get DAVdroid installed on your Android device.
Get Calendar Cloner (Free) installed on your Android device.
Get a Google account here or create a new email alias on your Google Apps account.
Set up Google calendar sync for the newly created account.
Get a Calendly using your newly acquired Google email address here.
Upon setup DAVdroid starts syncing  the CalDAV calendar entries from the CalDAV server to a calendar locally on the Android device.
When configured correctly Calendar Cloner copies the synced appointments from the local CalDAV calendar to the Google Calendar.
So now - when someone wants to book an appointment with you via calendly it'll really work - the appointment will get booked and make it through the various apps and systems into your CalDAV calendar.
We promise.
But - there's an alternative:
Smart Scheduling for CalDAV - the EASY Way
Recently we came across Harmonizely. In short Harmonizely is similar to Calendly. It's nice, too: You can have it support several parts of your sales process through the integration with Zapier.
Zapier, of course, allows you to send data from a calendar entry into almost any piece of software. Tools in the sales tech stack are particularly likely to integrate with Zapier. This means there's a decent change you can send that data to your CRM, email outreach software, applicant tracking system, social media software, collaboration software, and so on...
The process to get Harmonizely working with a CalDAV-based calendar isn't too tricky.
Ready?
Here we go:
Register with Harmonizely here.
Configure Harmonizely to work with your CalDAV calendar.
That's it. And that's what we're doing now. Maybe you should too.
Have fun with that - and good selling !