---
B2B Selling on Twitter: Worth the Effort?
---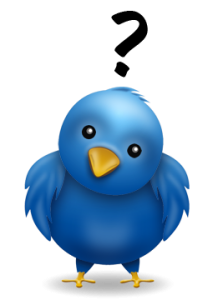 B2B Selling on Twitter has always been a bit of an odd discipline. LinkedIn has almost exclusively sucked up all the oxygen in that space and almost everyone uses Twitter as just a marketing channel.
Are you the kind of Sales Professional who helps out your customers wherever you can? It's an excellent way to win friends and create trust. Only problem is, you don't know the questions that need answering, the issues that your prospects need help with.
Until twitter – maybe…
How to Find Problems to Solve on Twitter
What is it that people want when they ask a question?: An answer they can trust!
When do you trust an answer?: When it comes from a trusted source.
When do you trust the source?: When the source has previously demonstrated the ability to deliver quality answers.
That's why you would like to monitor ALL questions from the people you follow on twitter. To make sure to help out, where you can. So you can demonstrate your value to those people. So they ask you again. For other stuff. Trust you. Recommend you. Buy from you.
This is how to do it: Do this search on Twitter. Then scroll through to check out the questions you can add valuable responses to.
Is Twitter an Interesting Outbound Channel in B2B Sales ?
The big question, though, is – even if it's technically possible to find questions to answer on Twitter and this help out – it's not certain at all that answering questions on that tweepful medium will be helpful to sales funnel growth.
A quick test engaging with shared content in our feeds mostly seemed to suggest that B2B selling on the blue bird's social tool is not very helpful. Marketing can find benefits on twitter for sure, and engaging with influencers can work on twitter as well. Finally it can help in research and with customer support.
For you in sales, though, hanging out on the chirping, you shouldn't expect extra explosive sales funnel growth.
That bird still has to really spread its wings !!